myMP App for Symbian
The myMP app for Symbian will work on any newish (less than 3 years old) Nokia smartphone. On phones with a homescreen function (N97, N97mini, C6, N8, C7, E7, C6–01 etc...) it should also act as a homescreen widget. I'll confirm this a couple of weeks after the C6-01 is released in the UK. The app helps you see keep track of how MPs across the UK have voted on key issues and offers quick links to sites with even more information.
The app should be available from the Ovi Store before the end of 2010 once it's finalised. Until then you can try the beta version but beware, there are likely to be missing features and a lot of bugs. All the feedback you can give will help.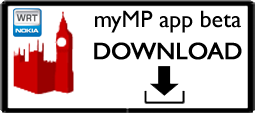 None of this would be possible without the excellent information available through the easy-to-use APIs at theyworkforyou.com all funded by donations to the volunteer-led group at mysociety.org. Please consider making a donation if you find the services they provide useful.
Oh and please do get in touch if you have any feedback or suggestions.