Moodstocks Notes for Nokia
Moodstocks makes any object you can take a picture of recognisable to smartphones. It's a simple idea but it opens up great opportunities by linking the real world with the online world without barcodes, Qcodes or RFID chips. Even better, it doesn't rely on a fixed database of objects; if you scan an object that Moodstocks doesn't recognise then it will learn to recognise it in the future.
See more at www.notes.moodstocks.com
Using the API, and with the help of Pierre, I've written the first Moodstocks Notes client for Nokia Smartphones. So please try it out, get tagging and let me know how it works for you. And thanks for trying my software.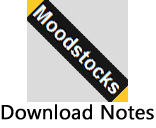 To install you just need to open the file on your phone, either by copying it from your computer, or by visiting this site on your phone. Alternatively connect your phone using Ovi Suite and drag the mNotes.wgz file to the icon of your phone, it should install for you. When you first run the software it might ask you to install the APIBridge. This should only take a minute and you'll only need to do it once.
I've tested the app on a Nokia E5, Nokia 5530 and a Nokia C7 so it should work on most Nokia smartphones but if you have any problems please let me know. This software is still very much in beta, so please don't expect a perfect experience but I hope it works okay.
If the software works well for you, please let me know and I'll keep you up to date with the latest preview versions as more features are added.