Eduroam
I use the eduroam wireless network group to get fast wireless internet access at universities all over the world and especially at The University of Leeds but after upgrading to Windows 8 it stopped working. I couldn't find a guide to fixing the problem online so I figured it out myself and I hope it can help you too. I've managed to fix the problem for four people in a different combination of the three following ways, I hope they help. Try right-clicking on eduroam and forgetting the network between trying different methods and combinations of methods if you have problems.
1. Try the University of Leeds Windows 7 configuration tool
Just download the tool here, right click and selected properites then from the Compatibility tab choose to run the program in compatibility mode for Windows 7. This technique is easy and worked on one of the four laptops I've fixed and a similar tool may be available for other universities.
2. Use a "\" before your username to avoid trying to join a domain
Since the username for eduroam includes the University's email adress Windows 8 can misinterpret this as the user trying to join a domain. This is a mistake and eduroam does not work on this model. Just put a "\" before your username to avoid this problem.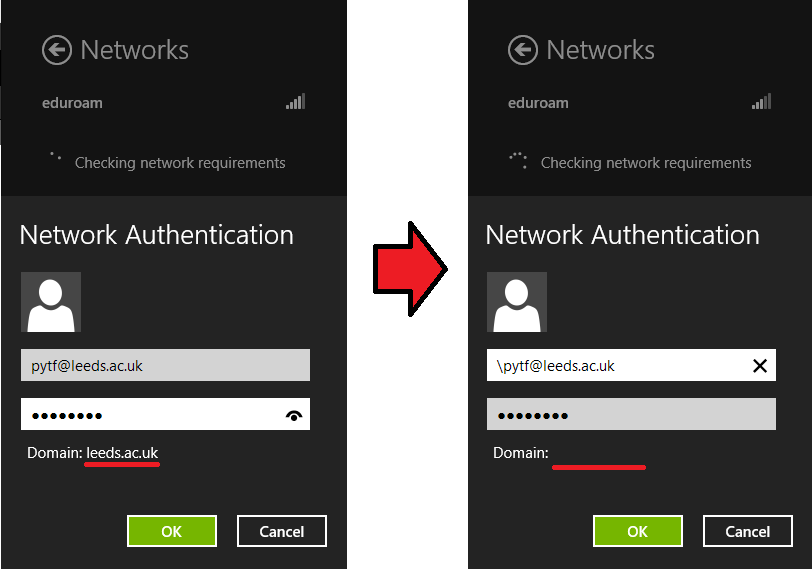 3. Downgrade your wireless adapter driver
The only fix that worked for two of the four laptops I've reconnected was to downgrade the wireless adapter driver to the version that originally shipped with the device. You should be able to find these on the drivers website for your laptop or on websites like softpedia. Downgrading a driver can be a bit tricky because Windows 8 will generally default to newer, but often generic and not fully compatible, drivers. Also, since the installation methods for drivers is different depending on who made your laptop I can't give a complete guide.
If installing the driver doesn't fix the problem then you may need to force Windows 8 to use your newly downloaded driver manually. Here's what I did on my laptop,
1. Find and open the device manager by searching from the start screen

2. In the device manager find the wireless network adapater (here it's called "Broadcom Wireless-N WLAN..."), right-click and select upgrade driver.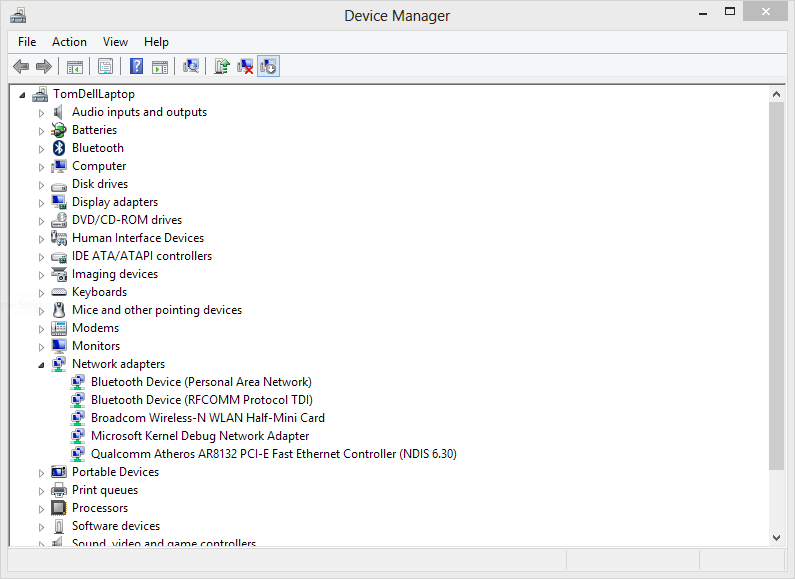 3. Select "Browse my computer for driver software".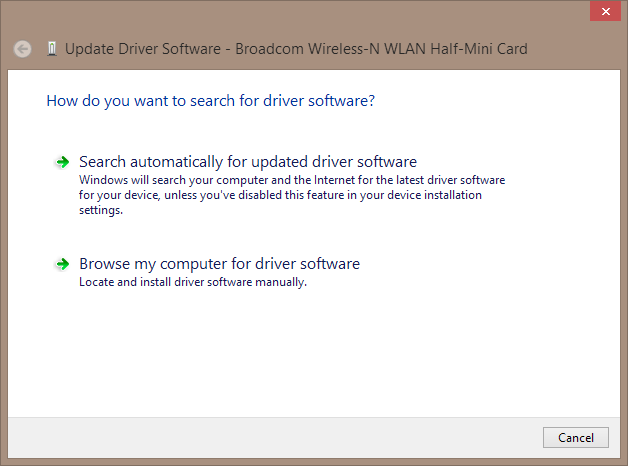 4. If the driver you downloaded is present in the list of network adapters, choose it. If it's not present then click Have Disk... and find the *.inf file you downloaded from the laptop maufacturer's website and unpacked/installed.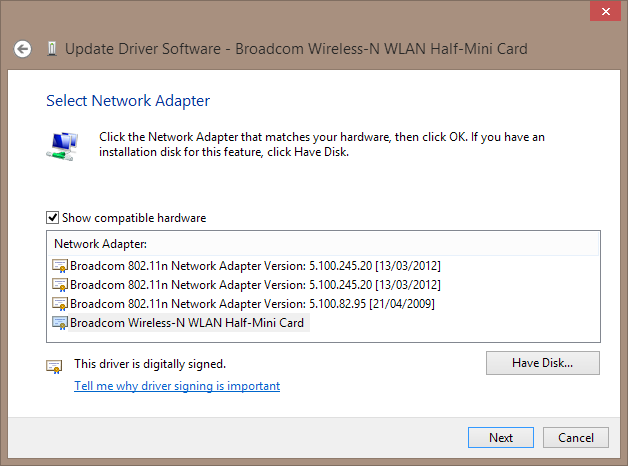 I can't guarantee that these things will work so I've added a comments section to the bottom of this page. If you still have problems, maybe someone will be able to help. If you find better solutions, please let me know and I'll share them on here.
comments powered by