Inventing a democratic vocabulary to free us from the tyranny of experts — algorithms in government.
Tom Forth,
Would you like a government decision that affects your community to be taken by a big soulless algorithmic-decision-making machine or a nice caring person?
Few of us would pick the machine.
I exaggerate, but this is how much of the current debate about algorithmic decision-making is going. People are good, machines are bad, regulate the machines, trust the people, case closed.
Now let's look at the other side,
Would you like a decision that affects your community to be taken by a secretive local club, or a transparent legal process with rules set by elected officials?
Suddenly algorithms sounds good. Take back control, make decisions based on evidence, hold people to account.
The questions that we need to think about are somewhere in between, and the challenge quickly comes to depend on how you define "algorithmic decision-making".
I am unapologetically positive about algorithmic decision-making. It's one reason why I've worked so hard for the past five years to get the data that will power algorithmic decisions open, and create an open culture that will let algorithmic decision-making develop more rapidly, and more closely to people, communities, and local government.
What is algorithmic decision-making?
I think that algorithmic decision-making is just another name for a rules-based system. The rules are the algorithm, they are set in collaboration with elected politicians, criticised by society, informed by data, and interpreted by a hopefully impartial judge. We're used to this and we quite like it. A couple of examples are,
Rules-based planning decisions vs. local community decisions. We don't want our next-door neighbour who drinks with the councillor, or a developer who bribed the councillor, to get planning permission just because of who they know or who they've paid. We prefer planning to be rules-based (algorithmic).
Local authority assignment of school places vs. free school and academy assignment. We prefer it when school places are assigned by a written policy (an algorithm) and where an appeals process considers whether the algorithm has been accurately applied. We don't like the idea that certain good schools pick children based on other measures, especially if the method is unspecified or unchallengeable.
Make the algorithms harder to understand or closed and things get a bit controversial.
Variable ticket pricing on railways vs. regulated standard fares. The UK state runs, or allows others to run, trains that use opaque algorithms to set the price you'll pay for a ticket. You pay a different amount to the person sat next to you according to a mixture of the features of your ticket and a secret algorithm used to set the price at the time you bought the ticket. We mostly think that's fine, because the system as a whole works better than standardised fares, or a system where friends of the station-master get cheap tickets. At ODILeeds we argue that we could do even better by releasing more information about the algorithm and the data that powers it.
Assignment of social housing. We assign social housing by quite complicated algorithms involving personal characteristics. Almost no-one understands them correctly. There are points for family size, age, gender, housing need, local connections, time on a waiting list, and more. We mostly think that this is fine. We want local people to get an advantage, but we want that advantage to be governed by rules, not people. The people who work in social housing give advice, not preference. We build tools that help with this
I've just shown that we already have lots of algorithmic decision making. Mostly, we like it.
But what people worrying about algorithmic decision making today are mostly focusing on is new, even more controversial, types of algorithmic decision-making.
I hear words like "machine-learning" and "big data" and "artificial intelligence" a lot, but I see very few examples of what's being talked about. In my experience these discussions are so low on examples, that I find them almost impossible to follow.
Some examples of algorithmic decision making
So here are four examples that people are thinking about in local government in Europe. I have worked on technology to prototype all four.
I think that they are more controversial because they personalise a public services or government decisions by using algorithms and data to do things at scales and efficiencies that we couldn't before. But I also think that they are, or would be, seen as an improvement over our current systems.
Adaptive bin collection schedules vs. fixed schedules. By measuring the amount of waste collected from each bin in a city and by measuring the quality of sorting in the recycling bin you can algorithmically design routes and collection frequencies that optimise recycling rates. Some people will get their bins collected more often. Some people less often. Some people will have their collection dates changed with only a few days notice. It would save money, reduce traffic, and increase collection frequency. Lots of people would like that. But is it fair?
Large-scale audience classification using computer vision to determine culture funding. Collecting data on who attends events is extremely expensive and requires teams of people with clipboards. In some countries collecting data in this way is actually illegal. Computer vision is already excellent at judging the composition of gender, ethnicity, and age of large groups of people. It is quite good at estimating income too. What if we used surveillance imagery to judge who attended events, and then committed to defining an algorithm within government that funded culture so that the subsidised audience reflected the population?
Real-time origin, destination, and demography data for all public transport. How do we decide how long trains should be and how many buses should run? What if we knew where passengers were coming from and going to, what they earned and how big their families were, and how many of those passengers were on each bus and train? We could then define an algorithm to prioritise certain journeys according to a mix of social and economic value, and assign resources to maximise that value. Good idea?
Algorithmic speed limits. Computer vision means that we can now cheaply and easily monitor the number and type of vehicles on our roads in real time. This is already used to police London's congestion zone and many tolled bridges. Soon it will be used to automatically set speed limits on roads. Is that okay?
If I talk to people about these four examples, I know that many will be quite uncomfortable about them. But this isn't a reason to regulate the deployment of algorithmic decision-making any more than person-led decision-making. While people are uncomfortable about these new techniques, they are even more uncomfortable about the techniques that they replace.
How good is our current system?
Why do some people have garden waste collected while others don't? Why do some only have recycling collected at certain times of the year? Why do some get weekly collections, while others must wait two? These are currently decisions taken by people, not algorithms. People are not happy with them, nor are they aware of how they were taken. Without an algorithm there is no transparency and very little public input. With an algorithm, published publicly, there is much less room for bias and corruption.
The same goes for culture funding. Computer vision sounds scary, but how is culture funding assigned in the UK currently and who does it benefit? The answer is that it is assigned by people and closed processes, and we don't know who it benefits. Few people would pick this over an algorithmic process where the mechanisms, however biased, were visible and a process where the data, however poor, was open.
How is transport investment assigned and who does it benefit? How does Northern Rail decide how long each train will be in the morning? How does First Bus in Leeds decide how frequently to run its buses? How are speed limits set on small motorways?
These are all decisions taken by people not algorithms and they are completely obscured from the public. Often they are justified by massaged or dishonest data released by public or semi-public authorities to back up their hunches and biases while claiming to be impartial. We can do better with algorithms.
Algorithms are about putting people in charge
I think that what most people want is a rules-based process for making decisions, where they and their community get to set the rules together, or understand the bargain under which they sacrifice that local sovereignty. We've been getting worse at this in recent decades in the UK, and I think that algorithmic decision making is a chance to reverse that.
Most of the fears around algorithmic decision making are that its efficiency, power, and scalability will let us make much bigger decisions that affect more people. I share the fears that bad decisions at those scales would cause more harm than decisions did in the past.
But that same efficiency, power, and scalability also opens up rules-based and data-led decisions to the smaller scales of government that have been eroded in recent years.
Where once only DCMS could afford to analyse the representation of cultural funding and attendance, soon every city will be able to. Where once only DfT could afford to run railway franchise competitions or assess the value of public investment, soon every city will be able to. Where once only large outsourcing companies could afford to design efficient waste collection routes, soon every city will be able to.
The first wave of data-led decision-making led to the centralisation of power at a distance from the people. This was especially true in the UK, where the undefined constitution and the undefined role of different tiers of government meant that there were no barriers to centralisation. Data was expensive to collect and the algorithms to analyse it were hard to develop and expensive to run. Only the centre could do it, people argued. They won.
But with cheaper data collection and more powerful open algorithms to analyse it, towns, cities and regions will soon be able to challenge national governments and national institutions that have misled or patronised them in the past. Where decisions were claimed to have been taken based on evidence and according to a set of rules, new data can be collected, analysed, and applied to an algorithm defining those rules in another way.
France gets it.
I think that algorithmic decision-making will give power to many more people than have power today. By reducing the cost of rules-based and evidence-led decision making it will allow local government to question today's decisions and make their own, better, arguments. In the words of France's Chief Digital Office, I want to "invent a democratic vocabulary based on algorithms that frees us from the tyranny of experts".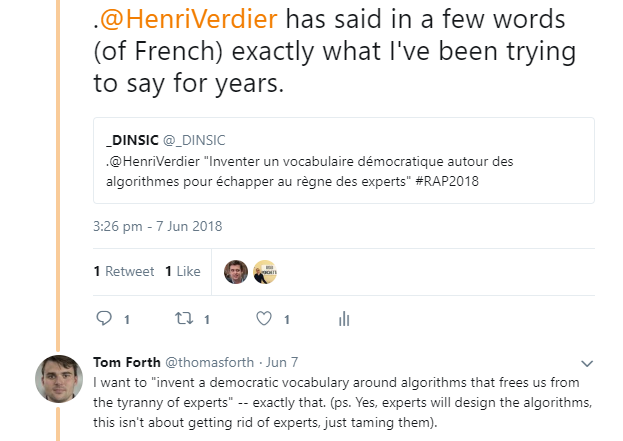 I am not surprised that this scares people with power today. I intend to remove that power from them. I am not surprised that they want to regulate this change, or scare people into opposing it.
I really hope that the people won't let them. More specifically, I hope that cities and local governments in the UK will avoid being told what they can and can't do with algorithmic decision-making tools by national government. That's why, for now, I'm much more interested by the work that France is doing on algorithmic decision-making than what we're doing in the UK. They seem to understand its revolutionary power, and not just its dangers.